Having attempted the hike around Snowbank Lake in November 2013 and failing, my friends and I set out to try it again. This time, we would make it happen.
This post is written by me, and contains video footage shot and edited by my buddy, Josh.
The trip started on snowless, Thursday, September 11 when the four of us set out from the Twin Cities area in the afternoon and drove up to Ely, Minnesota. Upon arrival, we checked into a cheap hotel for the night and went to the local brewery/bar to try out a few of their beers. Unfortunately, all of their selection was disappointing and ruined the nostalgia from the last trip.
Day 1
We woke the next morning, ate breakfast, stopped at the BWCA check-in station to get our permit, and drove out to the trailhead.
Last year we attempted to navigate counter-clockwise, and this year we went clockwise. The decision wasn't to set us up for greater success, I think it was to achieve better campsite selection.
"Adopt the pace of nature: her secret is patience." -Ralph Waldo Emerson
Hiking along the trail was beautiful. I love being up there, away from all the people and city, just surrounded by nature.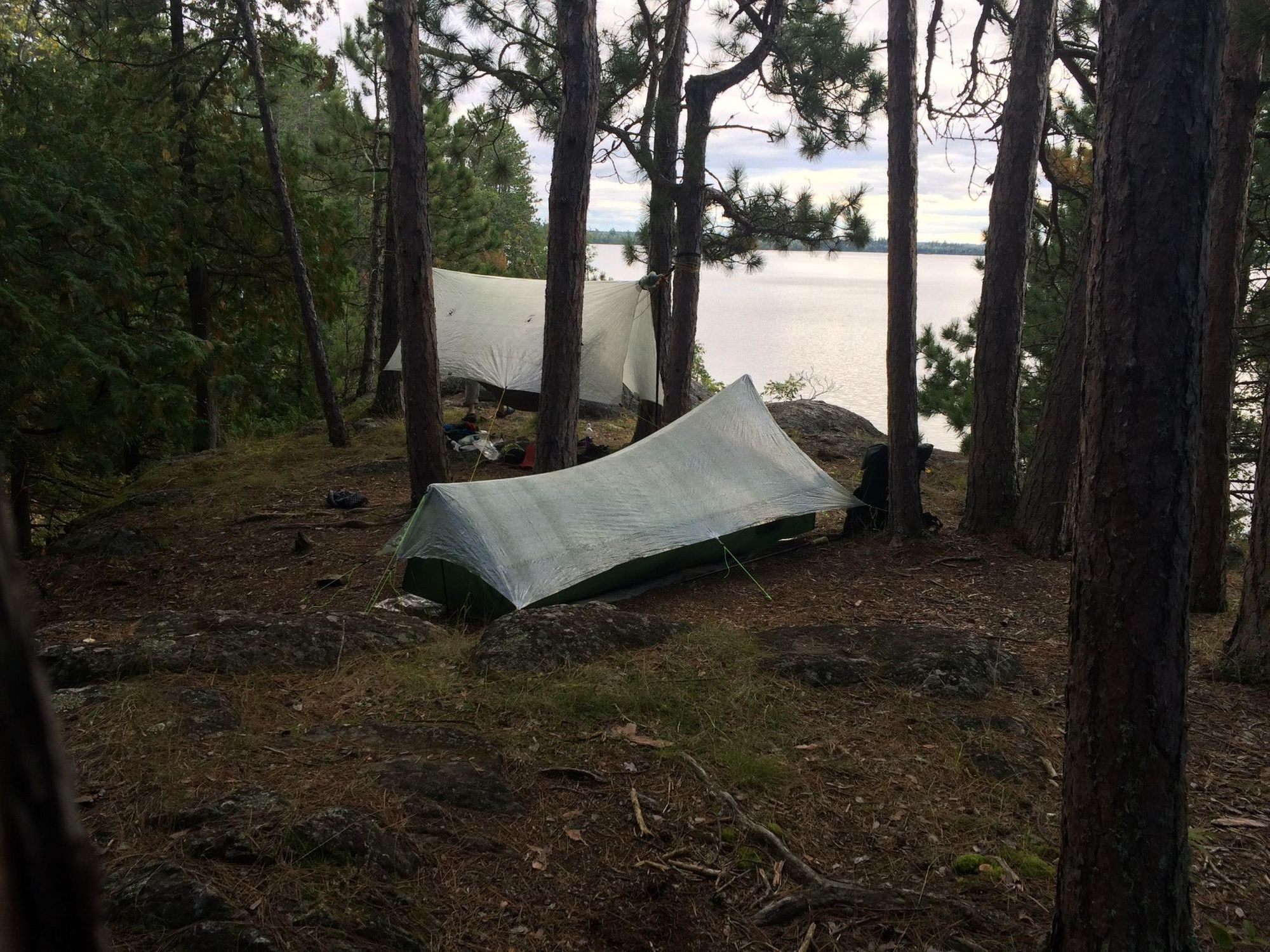 We arrived at our first campsite earlier in the day than I had thought we would and I wanted to keep going, despite it being the coolest site I've seen. In the end, I'm happy we stopped and stayed at this site. It had a natural rock couch that overlooked the bay, perfect trees behind that for the hammocks and a nice tent pad at the other end of the site.
We filtered water, made food, and sat by the fire until bed time. I got a blip of cell reception when I got into my sleeping bag and that's when I received a text from my younger sister exclaiming to me she had just gotten engaged. Congrats you two! (She sent a text rather than called as she knew a call wouldn't work.)
_____
Day 2
The next morning: breakfast, pack up, and hit the trail. Hiking along provided fantastic views and a few smelly beaver dams.
We hiked up to the highest point on the trail, which is also about the most northern part of it, and had the best view of the lake from the entire trip. Each little island could be seen from up there and the vastness of the area understood.

Shortly after our hike down from the high point, we came across another sight of beauty: rapids flowing from Snowbank Lake into Boot Lake.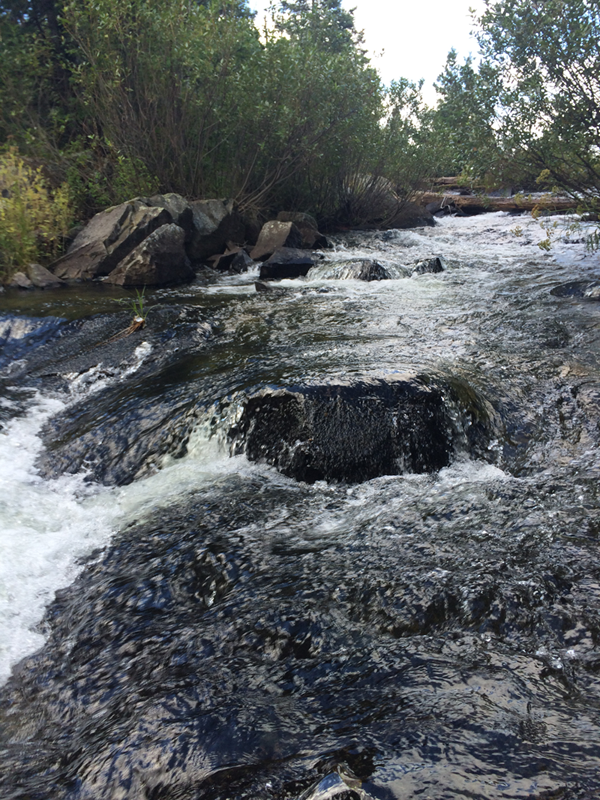 I refilled my water here and, after sitting to soak it in for a bit, we pressed onward. We arrived at camp, set up and did some chores and then shared an awesome trail snack on a trail-made cutting board.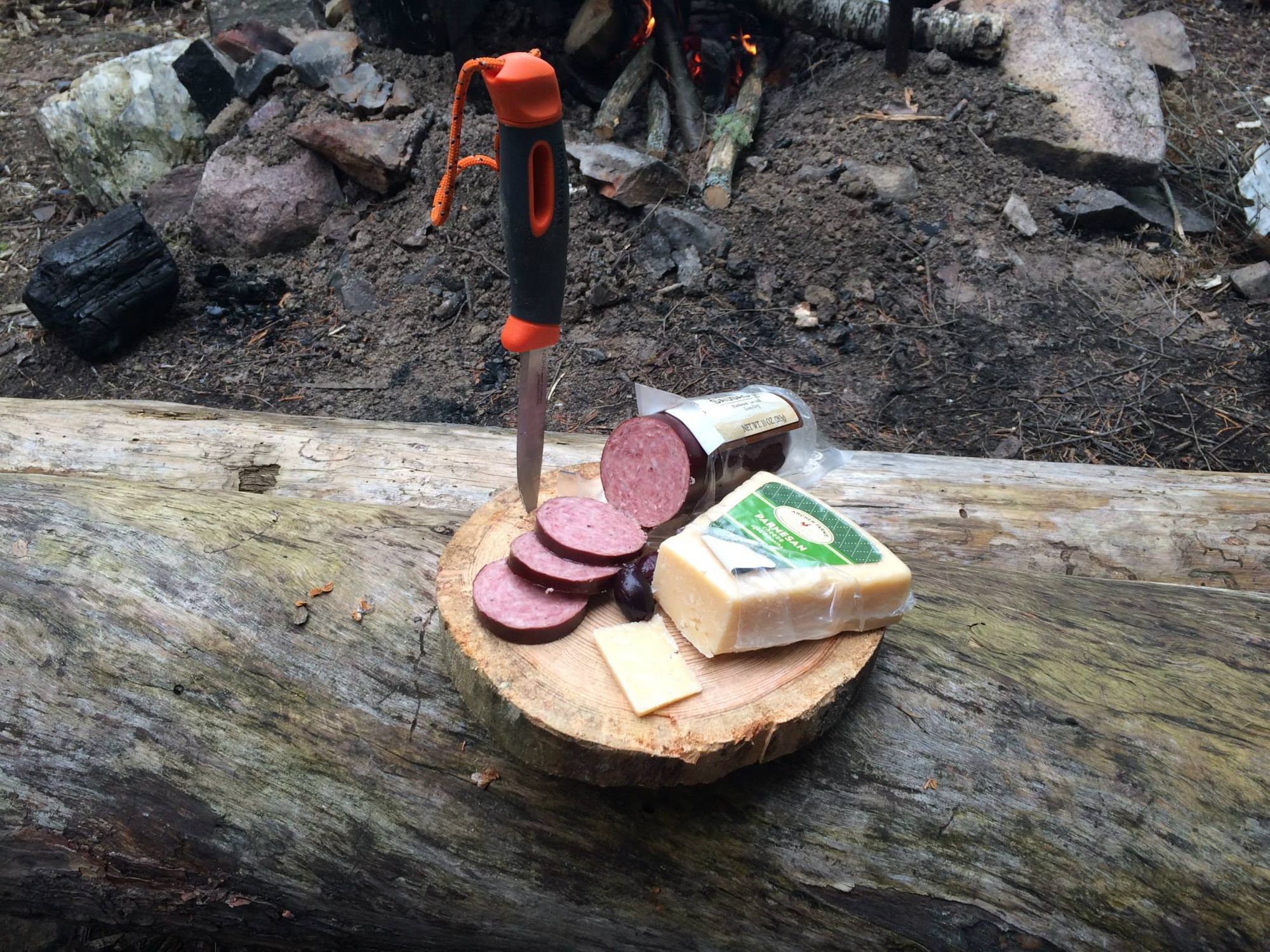 "One of the most tragic things I know about human nature is that all of us tend to put off living. We are all dreaming of some magical rose garden over the horizon instead of enjoying the roses that are blooming outside our windows today." -Dale Carnegie
_____
Day 3
It rained overnight but stopped by the time we woke at 5. All the brush on the trail stayed pretty damp throughout our hike. We finally entered familiar territory from the previous trip. Success! We made it around the lake.
_____
Closing
The trip was a great success, full of beautiful sights and great friends. Total mileage came in at around 24 miles, 6 fewer than we had anticipated.
Upon failing to meet our original goal in November last year, we set out to attempt it again. We made a few logistical changes, which set us up for success. If you're into this kind of stuff, stay tuned - I'll soon be posting about my experience from my five day trip on the Border Route Trail.
Comment and Connect
Connect with me on Twitter to read more and shoot me a message! @flyinthecoop
Did you enjoy this post?
Sign up to receive a monthly-ish email, with bonus content from time-to-time.