The Decision
When recently making the decision to make more with my hands, I figured that creating my own hand-bound journals would be a good option. This idea was appealing to me for a few reasons.
Reasons
Material Combinations
As you'll read more about in an upcoming post, my hobbies and entrepreneurial ideas lack focus, which I'm correcting. Part of correcting this is finding ways to capture my interest in a single thing that is expandable enough to hold my interest. It seems with all the possible combinations of materials and methods for creating these journals, I'll have plenty to explore for a long time to come.
Physical Object
Holding something physical that you created from an idea is unattainable in a digital landscape.
Ideas created into digital projects such as digital art or software, etc, are great and I find enjoyment in those. However, actually creating a physical object that can be held is something completely different and provides a feeling of accomplishment.
The Creative Process
The creative process of taking an idea and turning it into a physical thing is appealing.
Moving through each step of the process, experimenting, troubleshooting and moving into a completed product. Sure, now that 3D printers exist you can take an idea, craft a 3D file on a computer and have it printed into a physical object but that removes some of the human-ness from the process.
Attention To Detail
The attention to detail required provides a nice challenge.
So much can be completed with a sort of sloppiness to it to just get the job done well enough. Creating a journal by hand requires fine attention to detail at every step of the process. Sure there will be flaws since it's a human made object but those flaws provide character. That doesn't mean the process and attention can be thrown out the window.
Using What I Made
Being able to write in a journal I created is a cool thought.
Till now I've been writing in store bought journals. Soon, I'll be writing in a journal I created. That's cool because my written creations will be contained within my journal creation. All of it will be an expression of me in some way.
So Far...
To date, I've only created one journal (below), which happened to be a part of my recent engagement (I may post on that at some point). I found a guide online and went to work. The initial journal taught me a lot on how I can improve subsequent ones.
For Sale?
I am playing with the idea of selling these at some point, after a bit more practice. If that's something you'd ever have interest in purchasing, let me know!
Journal Photos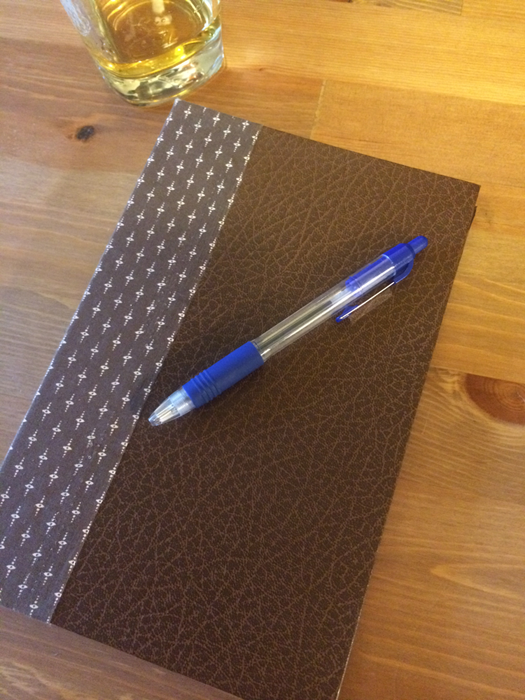 --
Comment and Connect
Comment on anything you've read and connect with me on Twitter, @flyinthecoop!
--
---